B&P News
Project, Company & Community Updates
UNM PAIS Building Earns PNM Energy Efficiency Award
New Mexico
---
Congratulations to the UNM Physics & Astronomy and Interdisciplinary Science team for earning a PNM 2021 Business Energy Efficiency Star Award in the New Construction category! We proud to be a PNM Trade Ally and PAIS design team member. These awards are given to businesses who have participated in PNM's Energy Efficiency program.
The 137,000 square foot PAIS building earned 419,945 kWh of savings. Enough energy savings to power 62 homes for a year, and the equivalent to removing 234 metric tons of carbon dioxide from the air and saving 137,742 gallons of water!
B&P NAMES NEW VICE PRESIDENT
New Mexico
---
The Board of Directors for Bridgers & Paxton Consulting Engineers recently appointed Tanner Schmidt, PE, LEED AP as Vice President at the firm's February board meeting in Albuquerque.
Tanner joined the Albuquerque office of Bridgers & Paxton in 2009. He graduated from Kansas State University in 2009 with a Bachelor of Science in Architectural Engineering and became a Professional Engineer in the state of New Mexico in 2015. He also earned his LEED AP accreditation in 2009.
Tanner's electrical engineering experience includes laboratory, military, office, data center, infrastructure, manufacturing, K-12 and higher education projects.
LANL SCC ECCCE PROJECT WINS TOP ENGINEERING AWARD
New Mexico
---
LANL SCC Exascale-Class Computer Cooling Equipment Project wins Top Engineering Award. Winners of the 2021 ACEC-NM Engineering Excellence Awards (EEA) were announced on January 26th. The LANL SCC ECCCE project earned the Grand Conceptor Award for the year's most outstanding engineering achievement in New Mexico.
The team engineered a solution that makes the Strategic Computing Complex more efficient and enables at least two advanced technology computer systems to be warm-water cooled at the same time. Congratulations to all the EEA winners and the whole ECCCE project team!
B&P NAMES NEW VICE PRESIDENT
New Mexico
---
The Board of Directors for Bridgers & Paxton Consulting Engineers appointed Scott H. Koller, PE, RCDD as Vice President at the firm's July board meeting in Albuquerque.
Scott joined the Albuquerque office of B&P in 2008. He graduated from the University of New Mexico in 2008 with a Bachelor of Science in Electrical Engineering and became a Professional Engineer in the state of New Mexico in 2013. He also earned his Registered Communications Distribution Designer Certificate in 2017.
Scott's electrical engineering experience is primarily for B&P's Government Group which includes laboratory, military, data centers, offices, infrastructure, and higher education projects.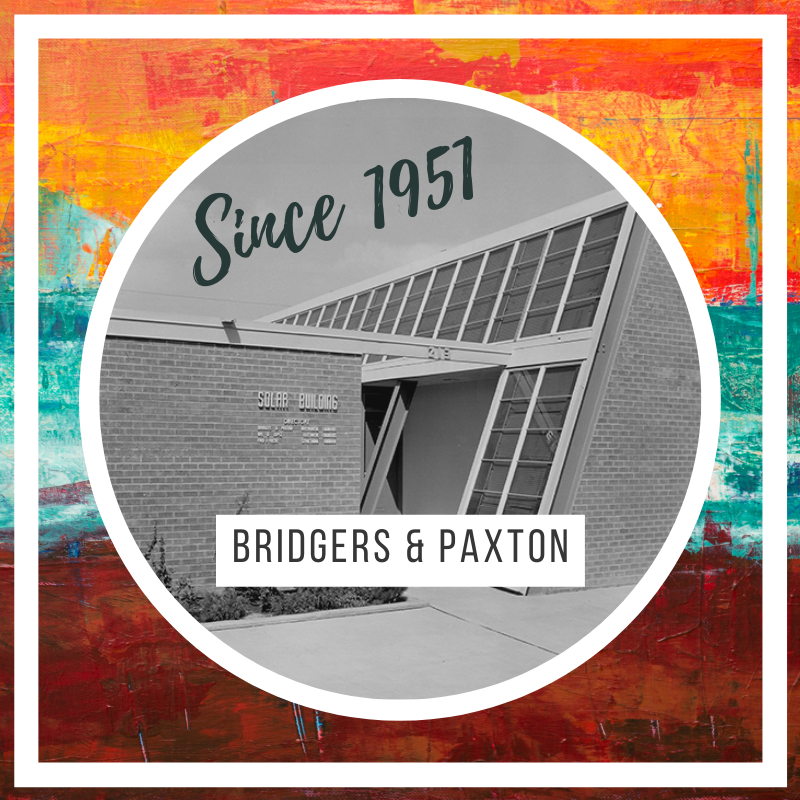 69 Years of Engineering Excellence
Arizona, Colorado & New Mexico
---
Happy Anniversary Bridgers & Paxton! Thank you to all of our staff, clients & communities for making this achievement possible. Missing our B&P Family on Cincodemayo.
B&P Colorado Office – 10 Years
Colorado
---
Our Colorado Springs Office is honored to reach 10 years of teaming and a decade of engineering design.
We Are Here for Our Customers, Team Members & Communities
Arizona, Colorado & New Mexico
---
B&P is continuing to support our clients, owners and communities even as the COVID-19 pandemic forces us to work remotely. We are using electronic means to communicate between team members and have in place software and network support of this arrangement. Our staff has put extra effort into finding unique ways to continue the flow of information, and our email and voice systems remain a key way to conduct business.
We value our client's missions, safety and health by following the State and CDC's requirements/recommendations for any in-person interface. We understand the importance of our role and small piece that plays in the economy of each community.
B&P's longevity comes from the trust our clients place in us to deliver quality service that makes them successful. The commitment of our staff is the basis of that trust and we are confident we will perform to meet or exceed the expectations even in these trying times.
Be safe and remain healthy.
We Are Open for Business
Arizona, Colorado & New Mexico
---
B&P remains open for business and committed to fulfilling our project obligations and meeting client expectations. While our staff in all three offices are working remotely in accordance with Colorado and New Mexico social isolation orders (Arizona expected to follow), the physical offices are closed but communication continues to flow through company email and voice systems. We recognize the burden these orders cause, but we will do our part for the community to get through these trying times. From all of us at B&P, we wish you good health.
B&P Reaches 100 USGBC LEED Project Milestone
ARIZONA, COLORADO & NEW MEXICO
---
Bridgers & Paxton is thrilled to reach the "100" LEED Project certified by U.S. Green Building Council (USGBC). According to its USGBC website, "LEED certification means healthier, more productive places, reduced stress on the environment by encouraging energy and resource-efficient buildings, and savings from increased building value, higher lease rates and decreased utility costs." This is certainly a team effort with LEED accredited professionals located in all our offices. We want to thank all our community partners who helped us achieve this milestone!
Gazette: Atlas Prep breaks ground on inaugural elementary school in southeast Colorado Springs
Colorado Springs, Colorado
---
Atlas Preparatory School opened as a Harrison School District 2-authorized charter school in 2009 with 80 fifth- graders.
The school now enrolls 970 fifth through 12th grade students and recently broke ground on a new elementary school. Atlas Prep Elementary will open in one year and serve preschool through fourth grade students, for a pre-K-12 slate.
"It is with the same giddy excitement of a fifth-grader with an eager attitude toward learning and embracing the angsty feelings of adolescence that Atlas is entering into the next phase of its existence," said Executive Director Brittney Stroh.
The elementary school will open in the fall of 2020 with 120 kindergarten and first grade students and grow to 300 students.
The building in southeastern Colorado Springs near the main school at South Academy and Fountain boulevards will feature play spaces, learning labs, reading corners, a gymnasium and an athletic facility.
Atlas Prep continues to follow the premise that students with significant socioeconomic disadvantages can achieve the academic and character growth necessary to experience lifelong self-fulfillment.
Click here for the entire article.
B&P provided MEPT Engineering Design Services.
CSBJ – Best in Business 2019: Construction, Design & Engineering
Colorado Springs, Colorado
---
Our Colorado Springs office was voted 2nd Best Engineering Firm (out of 37 entries) in the Colorado Springs Business Journal's "Best in Business 2019" community-wide vote. Bridgers & Paxton is honored to receive this recognition as we continue to provide innovative and dependable MEP engineering solutions for our clients. Thank you, Colorado Springs, for this vote of confidence!
Gazette: New middle school in Academy D-20 not the same old, same old concept (Chinook Trails Middle School)
Colorado Springs, Colorado
---
Chinook Trail Middle School is not your father's school. It's not your sibling's, either.
The $47.5 million building, undergoing finishing touches before classes start Aug. 15, is a complete custom design with the latest innovations in school construction. It's opening Tuesday, Aug. 13, with a 2:30 p.m. ribbon-cutting ceremony.
"This is 100 percent original," Academy School District 20 spokeswoman Allison Cortez said during a sneak peek at the project, which is being funded by a 2016 voter-approved $230 million bond measure.
The design took more than a year to complete, Cortez said. Architects RTA and MOA worked with an advisory group to create the layout and features. Bryan Construction is the general contractor.
Ideas were collected from staff, parents and more than 100 sixth- through eighth-graders who will attend the school in the Cordera neighborhood in northeast Colorado Springs.
Teens wanted a coffee shop feel in the library, so that's what they're getting. Comfortable soft seating, such as vinyl sectionals, was requested and delivered.
Cases that hold books are on wheels and movable.
Flexibility of space is a prominent feature of the two-story building, said Principal Tom Andrew, who's entering his 21st year with D-20, most recently as principal at High Plains Elementary School.
"We're encouraging a lot of voice and choice for students on how they'll learn," he said.
Learning pods, with four core-subject classrooms that jut out from a common center, have three heights of seating. They range from barstools bellying up to high tables to low tables with wiggly stools and ergonomically correct chairs. Garage-style doors can be pulled shut to isolate classrooms, if needed.
There are three learning pods per grade. The style is new for D-20, Andrew said.
The cafeteria tables fold up and away to make room for stadium seating for 360 when the lunchroom is used as an auditorium. Band, orchestra, drama and choir students will perform there.
Note:  B&P provided engineer design services.
Click here for the entire article.
Gazette: Expanded Challenger Learning Center to hold community grand opening Saturday with planetarium shows, space simulations
Colorado Springs, Colorado
---
The new Challenger Learning Center of Colorado, which engages children in hands-on space education through STEM curriculum and application, has doubled in size. Programming has expanded, too, to offer space- and science-related programs to all Colorado Springs residents, instead of primarily middle school students and teachers. "We don't want to be a secret," said Ron Bush, vice president of education. The center, which pays homage to the passion of the 1986 Challenger Shuttle Mission, was dedicated Thursday. Envision a 40-seat planetarium with interactive shows and a transporter that "launches" children into space using go-kart seats equipped with subwoofers that simulate the real deal. Picture a large briefing room where students receive their instructions for a trip to Mars or other destination, and an upgraded flight simulator, space station and a high-tech mission control center that tracks the spacecraft. The center also has a mission control console from the 1969 Apollo 11 launch to the moon. "It's a piece of history redesigned to be interactive for kids," Bush said. The new center opened over the summer at Academy School District 20's Center for Modern Learning on the campus of the year-old Legacy Peak Elementary School, 8701 Wolf Valley Drive. Although the center held its first event in July — a family-oriented celebration of the 50th anniversary of the Apollo 11 moonwalk by astronauts Neil Armstrong and Buzz Aldrin — a community grand open house will be held Saturday.
Note: B&P provided MEPT design services for this project.
Click here to read the entire article.
We Moved! Our Colorado Springs Office is now on the 2nd Floor of our current building – Suite 260.
Colorado Springs, Colorado
---
Our Colorado Springs office moved to the second floor / westside end of our current building off Garden of the Gods Road and Centennial Blvd.
As we enter our 10th year in Colorado Springs, we look forward to your visit.